Content Descriptors Background
The first part of this project has some important context about how this study was conducted.
The ESRB does not just give games ratings, it also uses content descriptors to more specifically describe content that consumers may find objectionable. Very similar, appearing in the same place as content descriptors on the back of game boxes, are also "Interactive Elements" that describe online features that consumers may want to know about before buying a game, such as In-Game Purchases or Shares Location. I did not include interactive elements in this study.
I find these content descriptors so interesting for two reasons. One, because it's a look at how an organization tries to organize and sort thousands of games based largely on what parents might not want their children to be exposed to, and two, because it's a formal description of what kind things happen inside a game. No one else is going to make a list of games that have "Cartoon Violence, but it's pretty mild" but a ratings agency.
By my count there have been 49 content descriptors used during the life of the ESRB. Several have been retired. A couple seem to be "retired" in that they have been replaced with other descriptors but have been used a few times since their retirement, perhaps in error. Two, as far as I can tell, have never been used.
Some Adult Assistance May Be Needed shows up on many lists of content descriptors, including Wikipedia's, but does not appear on the ESRB's list of descriptors, though presumably it did at some point. These lists say that it is exclusive to Early Childhood games. MobyGames claims a single game has received this descriptor, Disney's Little Einsteins. This game is rated Everyone, not Early Childhood. The ESRB's page for the game says it has no descriptors. GameFAQ's scans of the box also show no descriptors.
Real Gambling, used for games where real money is exchanged while gambling, is listed on the ESRB's list of descriptors, but I can find no evidence it has ever been used. You may be aware that Peak Entertainment Casinos is the only game to receive an Adults Only rating for having real gambling, and that is true. However, it has the content descriptor "Gambling", a descriptor that was retired, seemingly split into Simulated Gambling and Real Gambling. The Gambling descriptor was also used for Dead or Alive Xtreme Beach Volleyball, which only features gambling for in-game currency.
There are many descriptors with "mild" prefixes, but the ESRB does not acknowledge these as separate descriptors from the non-prefixed versions (except for the substance ones, which are worded differently), on their website, but do list the "strong" prefixed versions.
The ESRB categorizes content descriptors, but I did not realize this before I had already categorized them myself. The only difference ended up being that I put blood and violence in the same category, and I included retired descriptors.
ESRB Content Descriptors – Distribution
I'm starting with this mammoth chart so I can list all of the descriptors and their approximate dates of use. You'll notice some descriptors used once or twice and then not used for years before being used regularly, like Tobacco Reference appearing in one game, 4 years before any other substance reference descriptor appeared.
I looked it up and that game was Commandos: Beyond the Call of Duty (an expansion pack, but a standalone one, so it counts). If you go to ESRB.org (where I got most of my ESRB information) and search for that game, you'll see this:
But if you go to Steam, where it is currently for sale, you'll see this:
So, which is correct? The Steam listing has "Animated Violence", one of those "retired but not" descriptors, which makes it look much older than the ESRB one. It's possible Steam used the game's old, original ESRB rating for some reason (the back of the box seems to confirm this was the original rating), and then the game got re-rated by the ESRB some time later. Why would the game get re-rated if if not for the Steam release, though?
I spent at least 20 minutes putting together the evidence for this one specific game and I still don't know what should "count". The ESRB website has a lot of odd conflicting information and I didn't have the will to double check and investigate every single one.
Furthering my point that it's very hard to determine the history of descriptors let's look at MobyGame's list of games with Animated Violence. One game in 2018, one in 2011, a handful until 2003, and then dozens every year before that. The ESRB's content descriptor list in February 2004 doesn't mention it, but a list from February 2001 has it under "discontinued content descriptors". And yet that MobyGames list has dozens of uses of the descriptor in 2001 and 2002! And looking at that ESRB page from 2001 page I am seeing for the first time the descriptor "Reading Skills, Fine Motor Skills, Higher-Level Thinking Skills". Searching for that exact phrase in Google right now returns 25 results, all pretty much verbatim copies of that outdated list, no games mentioned as using it, so I guess that's three never used descriptors. No one has found it interesting enough to discuss until now, either. I have really been down a rabbit hole on this subject.
So, as I discuss when these descriptors began and ended I will be ignoring some outliers. If nothing is stated, then the descriptor has been in continuous use since the start of this study, in 1995.
Substances

Alcohol Reference – Started in 2003 with the other [Substance] Reference descriptors
Use of Alcohol
Drug Reference – Started in 2003 with the other [Substance] Reference descriptors
Use of Drugs – Started in 2002, it seems odd it took longer than Alcohol and Tobacco.
Tobacco Reference – Started in 2003 with the other [Substance] Reference descriptors
Use of Tobacco

Violence

Animated Blood – Animated in these descriptors means "cartoony", not that it is moving.
Animated Blood and Gore – Probably meant to be retired in 2002, but has popped up once in a while since then.
Mild Animated Violence – Probably meant to be retired in 2002, but has popped up once in a while since then.
Animated Violence – Probably meant to be retired in 2002, but has popped up once in a while since then.
Mild Blood – Probably started in 2006, that was the first year I have with more than one use.
Blood – Started in 1997, or I just got very unlucky with my small number of games from 1995 and 1996.
Realistic Blood – Stopped being seen after 2000, the other "Realistic" descriptors were last seen in 2001.
Blood and Gore
Realistic Blood and Gore – This may have been intended as a stronger version of Blood and Gore because they coexisted, but last seen in 2001.
Mild Cartoon Violence – Started 2003.
Cartoon Violence – Started 2003. One of "4" (they didn't include mild versions as separate, so it should be 6) new descriptors announced in June 2003.
Mild Fantasy Violence – Started 2003.
Fantasy Violence – One of the "4" new descriptors announced in June 2003. I have several from before then, somehow.
Intense Violence – One of the "4" new descriptors announced in June 2003.
Mild Realistic Violence – Discontinued in 1996 or 1999.
Realistic Violence – Gone after 2001.
Mild Violence
Violence
Violent References – Began in 2007.

Humor and Mischief

Comic Mischief
Crude Humor – Probably started use in 2003, although never got a press release like the "4" did.
Mature Humor – Probably started use in 2003. Likely a "Strong" version of Crude Humor as we'll see later.

Educational

Edutainment – Last seen in 2008.
Informational – Last seen 2001.

Gambling

Simulated Gambling – Started in 2004.
Gambling – In use 2000-2004, probably split into Simulated Gambling and the never seen Real Gambling.
Gaming – Last seen 2000. Seems to have been replaced with the short lived Gambling. This word is occasionally used as a way to say "gambling" but feels a bit old fashioned, perhaps due to the rise of video and computer games.

Language

Mild Language
Language – Either started in 1998, or I got unlucky with my sample. MobyGame's list makes it look like it may have indeed started then. It would be odd if it was introduced after its Mild and Strong versions.
Strong Language
Mild Lyrics – Introduced in 2001.
Lyrics – Seemingly introduced in 2004, also after its Mild and Strong versions.
Strong Lyrics – Introduced in 2001.

Sexual Content

Partial Nudity – First used 2001, maybe 2002.
Nudity – First used 2002.
Sexual Content – First used 2008, or maybe 2006.
Strong Sexual Content – Probably around for 25+ years. Oddly, I have no 2019 games with this after a 17 year run.
Mild Sexual Themes – Introduced 2008, significantly after its non-prefixed version.
Sexual Themes – I'm inclined to think this started in 2004, if not then it's an odd case of a descriptor suddenly rocketing up in use.
Mature Sexual Themes – Last used 2004. It's possible this was replaced with Sexual Themes, which seems like maybe a way to downplay it.
Sexual Violence – This is so rare it's hard to say. Only seen in 2014. In fact, it was only seen in one game in this study, which was ported to 4 systems: Metal Gear Solid V: Ground Zeroes.
Mild Suggestive Themes – Began use in 2004.
Suggestive Themes
Alright, now I can get to the graphs I usually start with. Please note the Y-axis of these graphs, some categories of descriptors are much more common than others. Alcohol is the most common substance overall and drugs the least. There seems to be more and more smoking in video games over time, quite the opposite of the movie industry.
It's odd how Animated Violence was semi-retired just as Violence took off (but it did already exist). They are distinct things so it wasn't a replacement.
A sharp decline in Comic Mischief after a huge spike. I have to wonder how the raters are trained on this kind of thing, do they just read a list of descriptors? Has the public perception of what is Comic Mischief changed over time, or have game developers decided to employ it less than a tenth as often as they did a decade ago?
Two very rarely used descriptors that haven't been seen in a long time. Informational is an odd one, it was for games with reference material, data, that kind of thing. The only games I have using it were Need for Speed: Porsche Unleashed, Virtual Kasparaov, Timeline, and Timescape: Journey to Pompeii.
It took a few tries, but the ESRB eventually decided what term to use. Gambling is pretty low overall, perhaps PEGI (the European equivalent of the ESRB) standards for games with gambling influenced developers worldwide.
It took a while before technology allowed the playing of music with potentially objectionable lyrics, but it's never been very common. I wonder if the shift towards real voice clips over text influenced the rise of bad language.

Many of these descriptors sound similar. Aren't they all "Sexual Content", why is that a separate descriptor? This article is a good overview of how all of these differ. Mild Suggestive Themes was sure big for a while, but then drastically fell in use.
I see now that the long bar graph is missing Alcohol Reference, sorry about that. Violence is by far the most common descriptor used, with Blood at #2 with just over half as many uses . Four ports of Metal Gear Solid V: Ground Zeroes makes Sexual Violence the second rarest descriptor. But the rarest, Mild Realistic Violence, was only seen in Noir: A Shadowy Thriller and Professional Bull Rider.
Overall, all kinds of violence dominate games.
Here is how common every combination of descriptors is. The white cells are the overall percent of games that have that descriptor, and then the pink cells at the bottom are what percent of games have that descriptor as their sole descriptor.

It's safe to say that games have added more and more things to warn about over time, but the ESRB has also expanded what kinds of things they have descriptors for over time. Referring to substance use wasn't deemed worthy of note until 2003, for instance. I'm sure a number of games released before then would have qualified.
This graph fits pretty well with the general trends of more descriptors over time, and how descriptors relate to ESRB ratings, which we'll look at later.
ESRB Content Descriptors + Metascores
The better a game is, the more content descriptors it has on average, with quite a jump in the highest tier. Do you think people are more satisfied the more realistic the violence, the more graphic the sexual content?
Games with Sexual Content are more liked than games with any other descriptor. Yet Strong Sexual Content doesn't do quite as well. Sex in general is a pretty strong indicator of quality, remember that the overall metascore average is 70.25, every sex descriptor is above that. The three substance use descriptors are very close in scores and above average, but merely referring to those same substances scores several fewer metascore points.
Simulated Gambling, perhaps an in-game casino, really seems to turn off reviewers. Cartoon Violence may be so low due to being common in cheap licensed games or just kiddie fare in general. Referring to violence is evidently less satisfying than seeing it.
ESRB Content Descriptors + Genres
In some genres a substance will be alluded to more often than used, and in other genres it's the other way around. Makes sense for the narrative genres to have more substance descriptors in general.
Role-Playing heavily favors Fantasy Violence due to usually being have some kind of magical or supernatural combat. Compilations have the most Cartoon Violence for some reason.
Again, please note the Y-axis on these graphs will change. Action really favors Crude Humor over Comic Mischief. Not a single Educational, Puzzle, or Simulation game had Mature Humor.
No surprise that Educational games have educational descriptors.
It's odd that a genre as general as Action is so low in gambling compared to others. I don't associate Compilations with gambling, I have no idea why that is so high.
The lyrics descriptors more or less work as an indication of how much English language licensed music appears in games, very rarely in Role-Playing, but fairly often in Sports. Simulation includes the likes of Rock Band, so that's why it has such a showing for lyrical content.
I'm baffled as to why Racing / Driving has the highest rates of Nudity. Role-Playing games overall rank pretty high when it comes to sexual descriptors, while Educational, Puzzle, and Sports games are decidedly unsexy.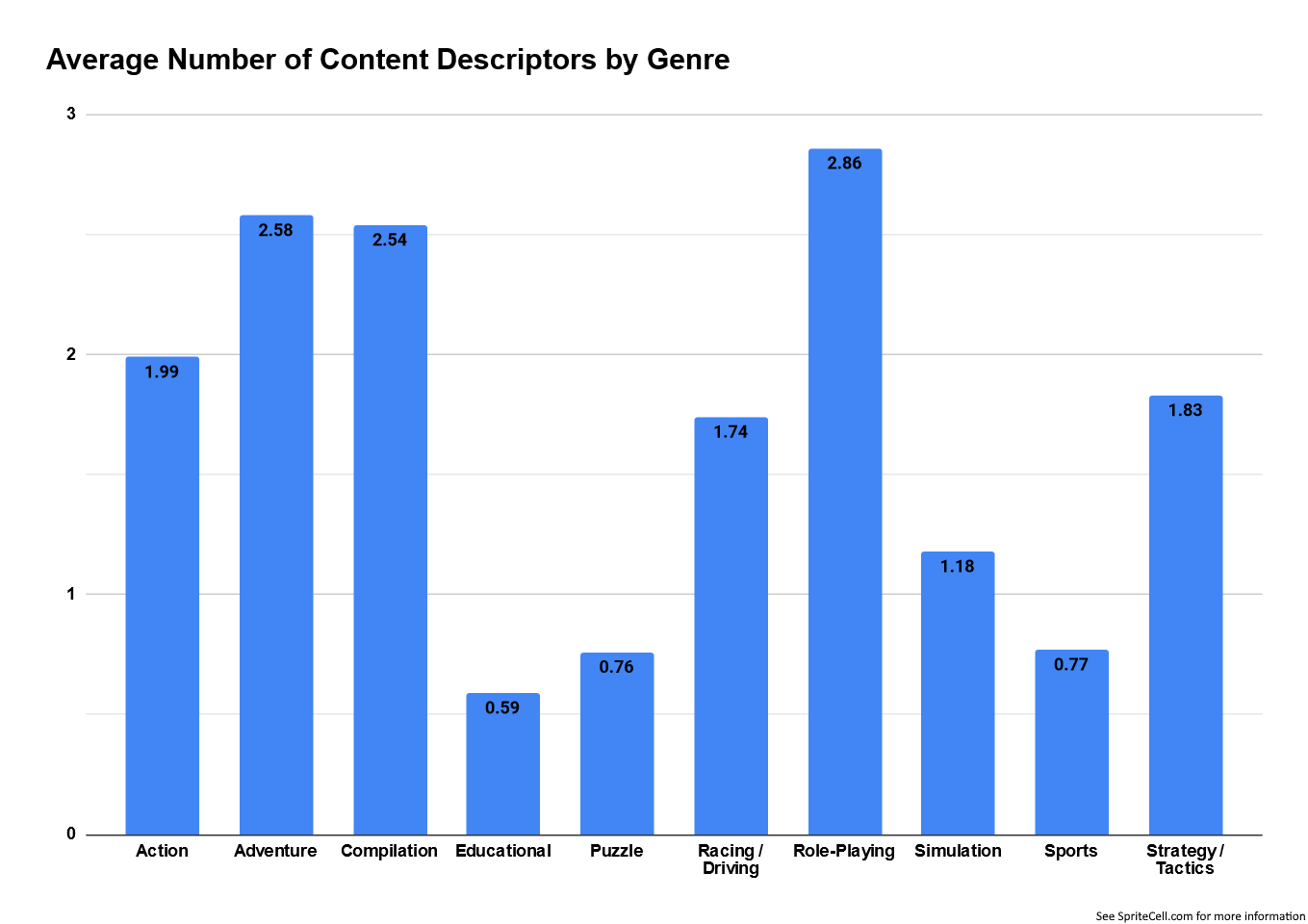 Role-Playing attracts a lot of potential content descriptors, Compilation's high number makes sense, every game can add a few more.
All that Genre + Descriptor data in a chart.
ESRB Content Descriptors + Game Lengths
The longer a game is the more descriptors it has on average.
ESRB Content Descriptors + ESRb Ratings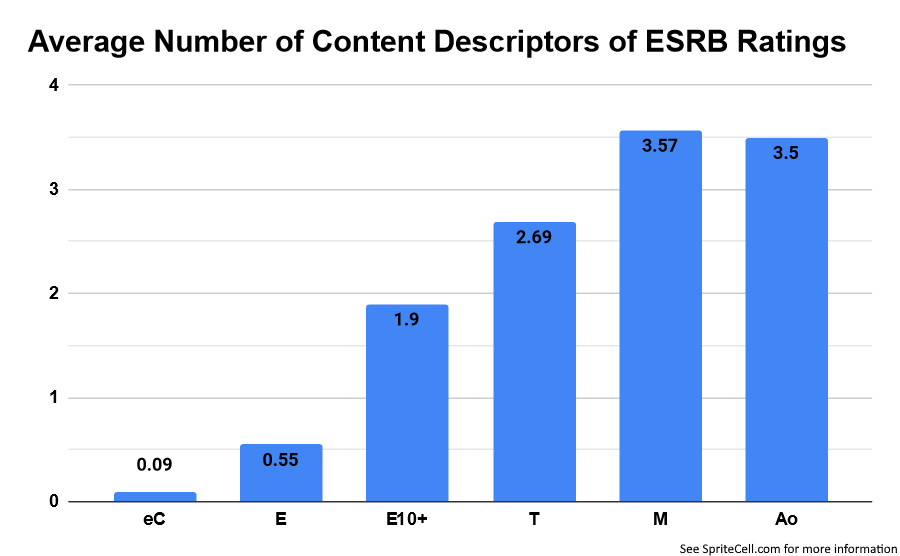 The two (of 22) Early Childhood games with descriptors had Edutainment descriptors. There were only two Adults Only games included, but there's also only a few dozen ever published. Steady increases in descriptors as rating become more severe.
Games rated Everyone rarely have any sexual or substance descriptors, and the violence tends to be fantasy or cartoon based. About 11 descriptors appear in more than 2% of E rated games.
Fantasy Violence suddenly becomes much more prevalent with E10+ games. More descriptors in general, 20 over 2%.
Violence now rockets up in use. Only slightly more descriptors used above 2% of the time, 21.
Blood and Gore and Strong Language now become much more prevalent. Only 18 descriptors used over 2% of the time. Teen games seem to employ the largest variety of descriptors, although it's pretty close and 2% was an arbitrary cut off.
And here is how common every descriptor is with every rating. I wonder if the ESRB has hard rules for which descriptors can be used with which ratings. It would make sense for a game with Use of Drugs to not be allowed less than a Teen rating, but is there a rule against Mild Fantasy Violence in a Mature rated game, or has there just not been any (any in this study, at least) games that have done that?
And that's all my graphs and charts for content descriptors. There will be one more bonus post before the next project. It will have some trivia and odd things I found in the course of making all this.
Sources
GameRankings.com for metascores and some release dates. Archives: 1, 2, 3
MobyGames.com for genres, some release dates, some ESRB ratings, and some ESRB content descriptors
HowLongToBeat.com for main story and completionist times.
ESRB.org for ESRB ratings and ESRB content descriptors
Wikipedia for its many lists of games